Featured Referral Partner: Brown's Moving and Storage
Prime moving season is just around the corner. Are you planning a move this Spring? Have you started to evaluate moving companies? With so many movers out there, how do you choose? We are here to help! We would like to introduce you to Kieran Brown of Brown's Moving and Storage, a member of our Referral Network since 2011 and one of our recommended movers.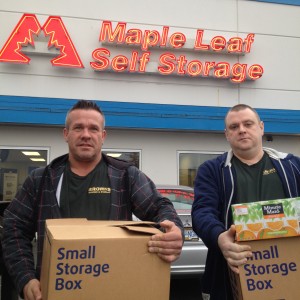 Recently, the Brown's team participated in our "More Food. Less Hunger" campaign by volunteering its time to collect all of the food items from each of our Maple Leaf locations. With its help, we were able to collect and deliver 712lbs of food to the SHARE Food Bank in the Tri-Cities and the Greater Vancouver Food Bank!Kieran has been in the moving industry for over 20 years and specializes in local, long distance and overseas moves for residential and commercial clients. Kieran believes that no job is too big or too small and his goal is to make your move as stress-free as possible. The Brown's team prides itself on providing great customer service at competitive rates. All employees are Van Line Trained and Certified in padding, wrapping and loading. Brown's also provides a full range of services including cleaning, packing, unpacking, organization, storage and moving. Check out what its customers are saying about its services here. You can also find out more about Brown's Moving and Storage by visiting its website, Facebook and Twitter pages.
If you're a current Maple Leaf Self Storage tenant you can save 10% off your next move. Give Brown's Moving and Storage a call at 1-778-990-1048 or 1-778-938-1399. You can also request a quote online.
Maple Leaf Self Storage has partnered with hundreds of stagers, realtors, senior care consultants, professional organizers, mortgage brokers and movers to establish the Maple Leaf Referral Partner Network. This network allows us to provide trusted referrals to our loyal customers; plus some great discounts! If you're ever in need of one of these services, please ask and we would be happy to provide you with some recommendations.
Stay up-to-date on all of our referral partner activities by following Maple Leaf on Twitter and liking us on Facebook!
If you'd like to join our Maple Leaf Referral Partner Network, please contact our Sales Manager, PJ Juneja at [email protected].