Why Do I Need Climate-Controlled Storage?
When looking for the right storage unit, you might be considering the following factors:
Location
It matters when you're looking for a new home, and it also matters when you're looking for a temporary home for your belongings. You want storage units that are easily accessible from where you live.
Size
One of the top considerations when choosing a storage unit is size. You need units that will comfortably house your belongings. Not too big, but not too small.
Cost
If you're shopping for a storage unit, you probably a budget in mind.
Length of Time
Another common consideration is how long you'll use the unit. Some people only need storage for a few weeks, whereas others may need one for long-term purposes.
Security
Of course, you want to know that your belongings will be safe and secure when you leave them in storage.
All of these are important considerations. However, one thing that's often overlooked is whether storage units are climate-controlled. If you live in an area that has little climate change throughout the year, then this may not be a deciding factor. But in many places, the atmosphere can change multiple times a week.
For example, Vancouver residents may not have to worry about temperatures getting too high or too low, but rain, moisture, and humidity can be problematic. Meanwhile, in Calgary, extreme weather fluctuations don't surprise anyone. It can be hot and dry one minute, and freezing with snow the next.
"But our storage units are indoors, not outdoors. Why does the weather matter?"
Did you know that antique furniture can crack in dry climates? Or that things can get mouldy and mildewy in humid climates?  Humidity alone can destroy electronics. It may not be enough to simply keep your things out of the rain, sun or snow.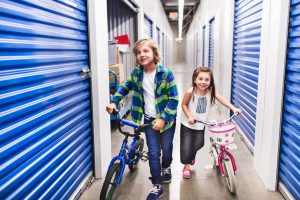 What is climate-controlled storage?
Climate-controlled storage does for your belongings what you do at home. It keeps the unit's ideal atmosphere consistent regardless of the time of year or location. The unit's temperature is regulated so it reduces the chance of moisture buildup.
How do I know if I need climate-controlled storage?
It's essential when storing items that are sensitive to fluctuations in temperature and humidity. If you're storing any of the following items, you should strongly consider selecting a climate-controlled unit:
Wooden Furniture
Humidity can cause wooden furniture to crack and warp. It can also cause the wood to rot.
Leather Furniture
Too much moisture can discolour expensive leather furniture. It can also lead to mildew.
Household Appliances
Extreme weather can cause parts in appliances like refrigerators, stoves, and washing machines to crack and rust. Humidity can cause a mildew problem.
Special Collections
If you collect special items (like coins, stamps, comics, or wine) you don't want to risk moisture damage. Store your collection in a climate-controlled unit to help preserve it for years.
Musical Instruments
Instruments, especially traditional ones, are usually sensitive to their environment. You should always store them in a climate-controlled unit to help avoid warping, broken strings, rust, mildew, and more.
Artwork and Craft Supplies
Humidity and extreme temperatures can wreak havoc on artwork and canvases, and crafting supplies like fabric and sewing machines.
Clothing
When left unattended for long periods of time in fluctuating climates, clothes are susceptible to mold and mildew. Climate control is especially important if you're storing meaningful or expensive items (like a wedding dress).
Important Paperwork and Records
Humidity can cause paperwork to fade, discolour, or even dissolve.
Business Inventory
If you're storing items that are meant to be sold to the public, you should definitely invest in climate-controlled storage to make sure they stay in perfect condition.
Photographs
If it gets too hot, your photos can get stuck together, ruining them in the process.
Electronics
Extreme temperatures (either high or low) and humidity can do a number on electronics.
If you're looking for a climate-controlled storage unit in your area, Maple Leaf Storage has 14 self storage locations around Greater Vancouver and Calgary. Whether you need storage the size of a closet or a garage, we have something that'll keep your belongings safe, clean, and dry.