Thank you for Supporting the 2017 Maple Leaf School Supply Drive
The 2017 Maple Leaf Self Storage School Supply Drive officially comes to an end. On behave of the recipients, we thank all the generous donors for making this year's School Supply Drive a great success. We also like to give special mentions to our partners Office Move Pro and TSM Moving for transporting the items collected in BC and Alberta. We couldn't thank these great partners enough for donating their time and effort to help the community.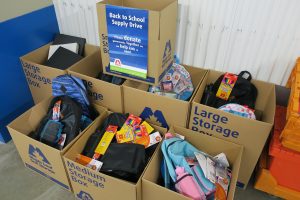 This is the third year we hosted the School Supply Drive. Between 14 of our BC and Calgary locations, we collected 26 moving boxes (from small, to medium to extra-large) full of the most needed school supplies. We donated the supplies to the Coquitlam Fire Fighter Charity, Cambie Community Centre's Out of School Child Care in Richmond, Central Community Elementary School in Port Coquitlam, Urban Native Youth Association in Vancouver, and the Calgary Board of Education. The recipients welcome the supplies such as calculators, binders, and pens and will definitely put them to good use.
Again, a big shout out goes out to all Maple Leaf Self Storage customers who generously donated supplies to all 14 of our stores. We couldn't have done it without you! Thank you very much for your support.