The Maple Leaf School Supply Drive 2018 is here!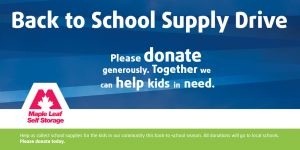 Back by popular demand, the Maple Leaf Self Storage School Supply Drive returns for the 4th year. We have partnered with Two Men and a Truck and Sparta Movers again to help transport the items collected in BC and Alberta, respectively. We couldn't thank these great partners enough for donating their time and effort to help the community.
Starting today and running until Wednesday, September 5th, we will be collecting NEW school supplies for local schools and charitable organizations.
Last year was our 3rd year running the school supply drive. In total, we collected 26 moving boxes (from small, to medium to extra-large) full of the most needed school supplies between our 10 BC locations, four Calgary locations. We donated the supplies to the Coquitlam Fire Fighter Charity, Cambie Community Centre's Out of School Child Care in Richmond, Central Community Elementary School in Port Coquitlam, Urban Native Youth Association in Vancouver, and the Calgary Board of Education.  The supplies were warmly welcomed by the recipients and will definitely put them to good use. Help us exceed last year's total by donating some of the items listed below.
Most Needed Items:
Pencils, pens and highlighters
Crayons, pencil crayons, markers and paints
Lined paper, graph paper, construction paper and notebooks
Erasers and pencil sharpeners
Rulers and protractors
Binders and dividers
Scissors and crafting scissors
Glue sticks and white glue
USB flash drives
Backpacks and lunch bags
Pencil cases or boxes
Art smocks
Stapler and extra staples
Calculators
You can make a donation at any of our 14 Maple Leaf Self Storage locations listed below:
Vancouver Self Storage locations:
Maple Leaf Self Storage Vancouver – Commercial Drive
33 Commercial Drive
Vancouver, BC V5L 0A2
Maple Leaf Self Storage Vancouver – Quebec Street
1818 Quebec Street
Vancouver, BC V5T 4S6
Maple Leaf Self Storage Vancouver – Wall Street
3001 Wall Street
Vancouver, BC V5K 1B5
Other B.C. Self Storage locations:
Maple Leaf Self Storage Burnaby
7705 Griffiths Drive
Burnaby, BC V3N 4P1
Maple Leaf Self Storage Coquitlam – Lougheed Hwy.
1601 Lougheed Highway
Coquitlam, BC V3K 3T7
Maple Leaf Self Storage Coquitlam – United Boulevard
77 Fawcett Road
Coquitlam, BC V3K 6V2
Maple Leaf Self Storage Port Coquitlam
1599 Coast Meridian Road (South)
Port Coquitlam, BC V3C 6R7
Maple Leaf Self Storage Langley
5758 Landmark Way
Surrey, BC V3S 7H1
Maple Leaf Self Storage Richmond
3240 No. 4 Road
Richmond, BC V6X 2L7
Maple Leaf Self Storage West Vancouver
250 Taylor Way
West Vancouver, BC V7T 2Z4
Calgary Self Storage locations:
Maple Leaf Self Storage Calgary – Country Hills
11142 15th Street NE,
Calgary, AB T3K 1E8
Maple Leaf Self Storage Calgary – Glenmore
803 – 64th Avenue SE
Calgary, AB T2H 2C3
Maple Leaf Self Storage Calgary – Royal Vista
11 Royal Vista Link NW,
Calgary, AB T3R 0K4
Maple Leaf Self Storage Calgary – Sunridge
2883 Sunridge Way NE
Calgary, AB T1Y 7K7